UP MBA Tuition Fee in 2012
Are you here to search about the UP MBA tuition fee?
You are in the right place. Though the UP Form 5 was from 2012.
If you are looking for the current UP MBA tuition fee, scroll down below.
UP MBA tuition fee is quite expensive than other graduate courses in the UP system.
Maybe because of the demand it generates. I am not really sure why.
A school year consists of 3 terms (tri-semester) while every subject in a UP MBA term consists of 2 units.
A unit cost P2,500 each. Quite expensive?
Considering the quality of education anyone can get, I think it is reasonable.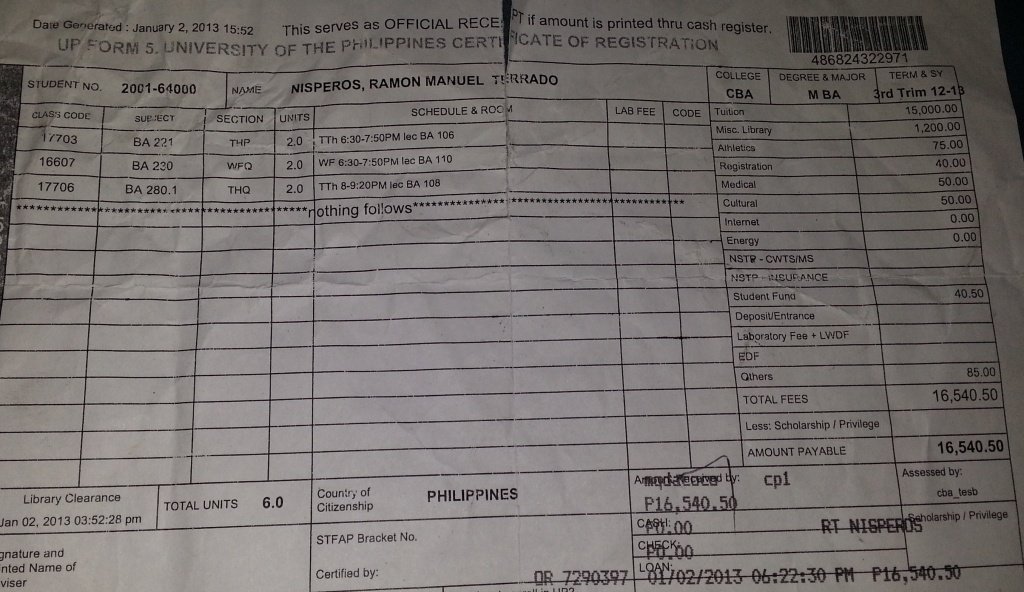 UP MBA tuition fee costs a little more than 17,000 on the 1st and 3rd term (6-unit term) depending on the miscellaneous and library fees.
On my experience, UP MBA tuition fee will go north of P17,000 in the first term only due to the library fee charges. The next 6-unit terms will then cost a little more than P16,000. 
The 2nd term UP MBA Tuition fee will only cost around 11,000 because only 2 subjects are scheduled (4 Units).
That's about it! Just be ready to shell out extra bucks for the books and the late-night case meetings in nearby coffee shops!
Current UP MBA Tuition Fee
According to the UP College of Business Administration, UP MBA Tuition fee increased to 4,500 per unit.
This increase is mainly due to the transfer of the part-time MBA program at the UP – Bonifacio Global City (UP-BGC). The miscellaneous fee per trimester shall be PhP2,022.50 to cover other fees such as library, registration, athletic, medical, energy, etc.