Business Strategy Consultant
Hi! I'm RM Nisperos, a Business Strategy Consultant that grew my companies in the transport, health, and consulting industries from startup to around 3M in sales, paying his capital in just six months. I own Peirsson Strategic Management Services – a consulting, research and training company on business strategy, data science and innovative research. I teach entrepreneurship, e-commerce and business planning at the University of the Philippines Open University. I lead the Marketing, Operations and Business Intelligence units of the Air Materiel Wing Savings and Loan Association Inc. 
this is how i can help you.
STRATEGY | MARKETING | RESEARCH | ANALYTICS
I'M NOT AN ORDINARY CONSULTANT. Are you the one who wants to use your passion to build an online business? Are you an Entrepreneur who wants to grow your business further? Are you an officer of a corporation who needs expert knowledge? If any of these sounds like you, don't hesitate to contact me.
I have mentored numerous startup SMEs in different fields as a professor at the University of the Philippines Open University, teaching business planning and online business. I am glad some of my students are making big in the Philippine business scene, both in the e-commerce business industry and in the physical and traditional environments. The first clients that I consulted with are still my clients now. I put a premium on relationships and teaching while providing solutions to their challenges.
If you want to be like them, click the button below, and I'll help you achieve something great. Don't worry! I don't bite. More importantly, I don't charge just inquiry questions.
LIVE | BLENDED | PURE ONLINE | LMS
I'M NOT A TYPICAL TRAINER. Getting me as a trainer gives you years of teaching experience at the University of the Philippines. I have a blended approach of surefire concepts and practical knowledge of anything about Business. I am currently the Business Intelligence and Marketing Head for a Financial institution and a Professor at the University of the Philippines Open University, teaching entrepreneurship and e-commerce.
I am a Business Administration strategy expert, an MBA Degree Holder from UP Diliman, a Certified E-Commerce Professional from the Asian Institute of E-Commerce, Entrepreneurship graduate from the University of the Philippines Open University. Some notable clients are the Department of Trade and Industry, the Department of Agriculture, the Development Academy of the Philippines, and the U.S. Agency for International Development (USAID).
If you need a trainer, discuss it with me, and I'll help you run a successful training.
don't be shy, ask me anything.
entrepreneur.
educator.
strategist.
I'm a senior lecturer and course coordinator at the UP Open University for entrepreneurship and business administration. I designed various modules and digital courses for the Faculty of Management and Development Studies in new enterprise planning, e-commerce and digital marketing. His specialization includes business management and administration, module and course development, data science, and the development of learning management systems.
I'm the founder and proprietor of Piersson Strategic Management Services, where I design training courses on business management, effective communications, data analysis and data visualization. I'm a co-owner of Tiara Aesthetic Dentistry, a cosmetic and orthodontic dental clinic in Metro Manila. I'm also the proprietor of RMNisperos Transport Services – a transportation business servicing commuters in Metro Manila.  
I'm also a consultant under USAID for various training programs for the Philippine government. I conducted training on policy communications, data analytics and branding.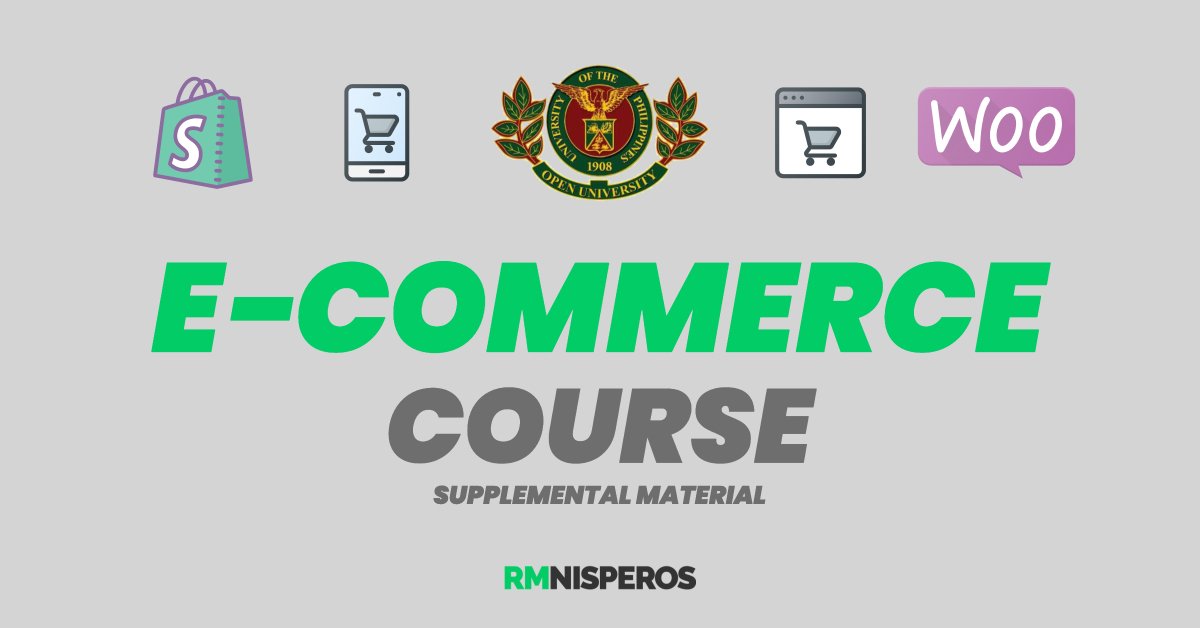 E-Commerce Course Description This E-Commerce course is an Open Educational Resource presented by RM Nisperos. The course is a resource for the Introduction to E-Commerce Certification Course of the University of the